Lance Sideaddle is the ol' West's answer to Sherlock Holmes, except our boy Lance has a screw loose somewhere.
He's a man in a time warp. His style of dress and his personal values are those of the 1850s American West. His private investigator office, above Whiskey Row in Prescott, Arizona, does not really exist today.
But if you find his doorway and climb the stairs, you'll travel back 160 years, to an era of long bustled skirts, when gold prospecting was active on the high plateau.
What's in the Book?
Six short stories, is what.
UNO – Love Her Wicked Little Schemes A charming temptress is threatened by her hubby's evil plot, but she turns out to be a very bad girl indeed.
DOS – Lonely Hearts and Serious Side Effects A magic love potion gone wrong summons a lovely woman from 100 years ago.
TRES – Desert Songbird and the Stagecoach Bust The enchanting nightclub warbler hatches a devious plot to get a seat on the first stage out of town.
CUATRO – Unfinished Business and Burning Greed You'll meet Lance's estranged wife and watch Lance take a stand, finally.
CINCO – Overdue Books and Hard-boiled Looks A convention of old West bad guys sees Lance actually solve a case!
SEIS – Modern Musak and the Art of Innocence How a desert sunrise can change someone's life.
Click here to purchase Lance Sidesaddle, Private Investigator for Kindle from Amazon.
More on Lance – Lance drives an old Chevy V8 pickup that he calls Ol Paint, due to the flaking primer that adorns those parts of the body that are not rust-colored. He calls it a Dodge though, because it sounds more Western. It's a 4X4, but it's only running on seven cylinders. Much like our boy, Lance.
Lance never realizes he's the butt of all jokes. If he did, he would take it philosophically, a word he is still learning how to spell. Lance never loses his good humor and his willingness to help his fellow citizens.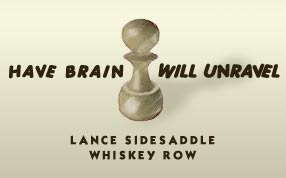 [clear]