Categories: Adventure and Suspense, News Releases, Speculative Fiction •
Tags: adventure fantasy, Aliens Got My Sally, Amazon Kindle eBook, Angle of Attack, Author Lee Baldwin, Barnes & Noble, Halcyon Dreamworlds, Kobo, Lee Baldwin, next history, Nook, science fiction, Scribd, speculative fiction, The Adventures of Lance Sidesaddle •
Comments Off

on Why is Next History Speculative Technology Fiction?

•
by admin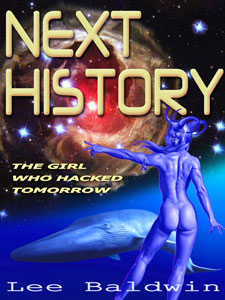 A single question around speculative technology fiction drove me to write Next History: The Girl Who Hacked Tomorrow.
What if we found a completely accurate history of our beginnings, an unbiased record that was not passed down verbally, not reimagined in every telling?
I started looking at creation myths of many cultures, located the first feminine archetype, and found scholarly input that became an energy source for every writer's favorite question: What If?
Really worth reading ~ If you can imagine reading Neal Stephenson – before anyone much had heard of him and mix it with Good Omens – this might be that novel. ~ Megan on Amazon
The answers created turmoil. They pushed some of the characters toward God. Some were driven in desperate search for a demon or an angel that could redeem them. The young female protagonist is prepared to settle for death, to throw away all her money for a single chance to see her mother again. She is driven, yet too realistic to think a Devil could possibly exist. And she laughs at the idea of a bargain with God.
One thing I learned in the writing, it is the intensity of a character's quest, not what it is, that makes a story move.
Along the way I saw an important flaw in the history and mythology around the archetypal Lilith, the first female created in Babylonian and Hebrew mythology. Did I use that? Oh yes I did.
Next History weaves big-iron predictive knowledge, a plugged-in world population, Sumerian creation myth, and a demonic presence with a hip sensibility to launch us beyond the hyperdata age toward a shifting and dangerous event horizon.
The story is a head-changing whirl toward a future world so outrageous, the survivors will be forced to adapt, or die.
Jacket Blurb
Exquisite and resourceful Tharcia, at risk in a world where
instinctive drives have been unleashed, seeks her mother for
a final throwdown.
Her only difficulty is that Mom is dead.
Through her peculiar mix of technology and magic, Tharcia ensnares
a strange entity in a geometric prison. It is not her mother.
When Tharcia unearths an enchanting oracle from her deepest being,
her life, and the future of humanity, is about to be reprogrammed.
Will there be a collective, agonizing dive into chaos and depravity?
Will Tharcia reveal humanity's true purpose?
Or, will nothing change at all, except for the dark fate
of one luckless girl?
Find out for yourself. I felt in the end that I had a story worth telling. It brings up the most important question humans ever face: Who am I and how do I matter to the universe? The answer belongs to you.