Next History and Pope Benedict
Matthew Fox on Benedict's Papal Legacy and why it makes Next History relevant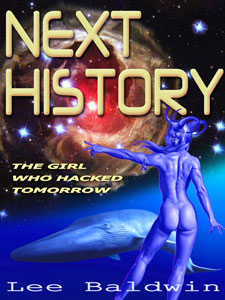 Recently, NPR's Amy Goodman interviewed excommunicated priest and author Matthew Fox on the legacy of Pope Benedict for the Catholic Church. Some of Fox's remarks go to the heart of why I wrote Next History: The Girl Who Hacked Tomorrow, why I saw an important flaw in the history and mythology around womankind, and the archetypal Lilith, the first female created by God in Babylonian and Hebrew mythology.
Here's Fox on why he was excommunicated:
"Number one was that I was a feminist theologian, he said. I didn't know that was a heresy. Number two, I called God 'Mother.' Well, I proved that all kinds of medieval mystics called God 'Mother,' and so does the Bible, although not often enough.
"Number three, I prefer 'original blessing' to 'original sin.' Jesus never heard of it; no Jews ever heard of it. And they accused me of not condemning homosexuals, which of course I do not.
"They're really Rorschach tests about what really freaks out the Vatican. And, of course, above all, it's women and sex. And that is the agenda. Whenever there's fundamentalism and fascism, it's about control. That's why the Vatican, the Taliban and Pat Robertson have this in common: They're all freaked out by the possibility of bringing the divine feminine back, and with it, of course, the equal rights of women."
Fox's 'divine feminine' remark resonated with me, because the construction of Next History: The Girl Who Hacked Tomorrow originated with a single question: What would it be like if we discovered a crystal clear record of our creation times, historically accurate and not mythologized or distorted by politics? I discovered that the Akashic Record could fill that need. How could humans find out about the Record in large numbers? The whales could deliver it.
The Whales? Oh yes, I forgot, it's science fiction.
OK suppose all that stuff. What would we find out? Among other things, we might discover that the goddess feminine in the form of the mythical Lilith has been smeared and degraded since about 2300 BCE, beginning with the stories the Levite priests told about her.
Prior to that Lilith was revered for hundreds of thousands of years as the source of abundance, the font of human life, health, healing and wisdom. My pet theory is that some males cannot live with the jealousy.
Next History in the end is the story of how Lilith comes to be alive on Earth again, how women the world over rise in waking consciousness of the feminine divine and come to be seen as the equals of men in every way. Equals, not superiors, it's how women roll. Too bad it has to be science fiction, but this is a small seed I wanted to plant for whoever reads the book.