Underneath Next History
What Is Next History Made Of?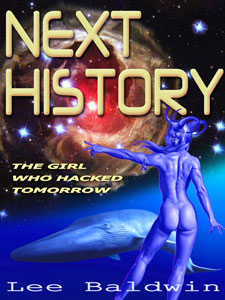 Next History, what's it about? Alternative history, alternative futures, contemporary fantasy, epic science fiction… how would you categorize Next History? The narrative takes on themes around the nature of reality, of God and the Devil, of supernatural beings we sometimes understand as angels, and drives us face to face with the power humans are now developing from emerging consciousness.
Next History is based on contemporary philosophy and spirituality, such as from Deepak Chopra, Eben Alexander, Jack Kornfield, Caroline Myss, Ervin Lazlo, Alan Watts, Andrew Weil, Marianne Williamson and others.
I got the idea for Next History from a single question. What if we received a clear and accurate history of our beginnings, a history not manipulated by political ambition or belief? This led me to rewrite the story of the mythical Lilith into a tale that could provide hope. After all, do we actually know the truth? Do we?
What a Find – Absolutely AWESOME book!
I was looking for escape fiction, and while the book provided that, it is so much more. It made me think, and it is changing my life. If you want to know the deepest secrets of the universe, this book won't spoon feed you, but will give you lots of terrific hints. Look over there! Consider this! What would you choose? And last, best, what will I choose?
Most important for me in a book of fiction is the characters. They have to be real people, and they have to make me care about them. The author created characters different than any I've seen anywhere, and many of them are folks I want to know better. (Of course, some of them are bad guys I want to squish between my thumb and forefinger.) Now I need to find another book by Lee Baldwin!
~ Maggie Uh-O, on Amazon
A Unique Voice in Story Telling.
Next History is humorous, a cliff hanger, a marvelous love story, and perfectly executed.
I usually dislike reviews comparing authors but Sheri Tepper comes to mind. Not in style but in subject matter and Mr. Baldwin's heartfull take on subjects usually shied away from by those less brave.
~ Ernie Smitty (Orygun), on Amazon
Thank you for hope…
The reading of this book reinforced beliefs I have held for some time. Thank you for hope. I loved the book…
~ Dragonviolet, on Amazon
Beneath it all…
is a struggle between the divine feminine and the patriarchy, a surprising theme for a science fiction novel.
The descriptions of the "dreamtime" are lyrical and sensuously enjoyable, sometimes funny. The whole world is hallucinating…. beautifully written with insight and subtelty. The action is fast and totally engaging.
Tharcia is a lovable character, her struggle is heartbreaking…
~ Karuna Chapman on Amazon